Our mission at Mohave Shred is to provide SECURE on­site document destruction at a fair price for Mohave County including Bullhead City, AZ, Lake Havasu, AZ, Kingman, AZ, Mohave Valley, AZ, Ft. Mohave, AZ, Parker, AZ and Laughlin, NV.
We will never compromise the integrity or security of your business and its personal information. We will completely destroy all documentation to protect you or your company's trade secrets, client information, and business records. Mohave Shred is fully licensed and insured.
Our success stems from our commitment to maintaining the highest level of security, understanding our needs and doing everything it takes to exceed our clients' expectations. From your homes front door to a business with thousands of employees, we are small enough to care but large enough to handle any job.
Information is one of the most important assets of any organization and must be protected as carefully as cash. We will continue to exceed industry expectations and explore any other opportunity that can offer successful growth of our company while still providing quality service. In providing a full menu of services, we will strive to maintain Mohave Shred as a valuable resource to our clients and ensure the secure destruction of their confidential information in an environmentally conscious process.
Save Our Environment?
For every ton of paper that is recycled, up to 17 mature trees can be saved from unnecessary destruction. This process not only saves thousands of mature trees each year, but also consumes 64% less energy and 50% less water, and results in 74% less air pollution than producing one ton of paper products using the virgin wood pulp.
We are proud members of NAID®
The National Association for Information Destruction. NAID's mission is to educate business, industry, and government of the importance of destroying discarded information.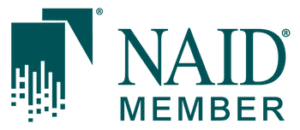 Special Offer
New Scheduled Shred Customers Your First Recurring Shred is FREE! One-Time Purge Customers Your Next Shred is 20% Off!