Shredding Services in Lake Havasu City, AZ
Why Shred Onsite?
Mobile document destruction takes place when we bring our shredding truck to your location in the Lake Havasu City area. We collect, consolidate and shred your documents immediately before leaving your location.
Here are three reasons to use an onsite shredding service:
Immediate Destruction: With on-site shredding, your secure documents will be destroyed within minutes of being collected.
Visible Proof: If you choose, you can come to the truck and watch as your documents are lifted into the chute, dumped into the shredding machine and destroyed.
Single Handling: With on-site shredding, your documents are taken immediately from your home or office and shredded before the shredding truck ever leaves your location. The process is simple, reducing the chance for mistakes and exposure of your important documents.
Your Lake Havasu City Shredding Company
Compared to the national shredding companies, Mohave Shred is Lake Havasu's best shredding option. We handle the destruction requirements of every type of customer with local, friendly and responsive service. We are proud to serve residential clients, home office users, small businesses, not-for-profits, healthcare, local and international corporations, as well as government agencies with our on-site shredding and document destruction services.
A Lake Havasu City Dropoff Shred Option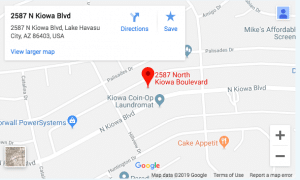 2587 N. Kiowa Blvd
Lake Havasu City, AZ
---
Why Choose Mohave Shred?
Compared to all the other options and shredding companies available to you, Mohave Shred is your best local shredding service option. Why?
We are headquartered in the area. We service your neighbors on a regular basis.
We provide firm pricing quotes and scheduling with one call.
Shredding appointments are available Monday through Friday.
We offer simple pricing; no extra surcharges or hidden fees.
All shredding is performed at your home or office.
All shredding is sent back into the recycling stream.
Our destruction trucks are state of the art machines.
Our staff are background checked and drug tested annually
Book Your Shred Job Today
Please give us a call or fill out the form on this page to get your shredding request initiated. We're glad to serve you.