Our Mobile Shred Truck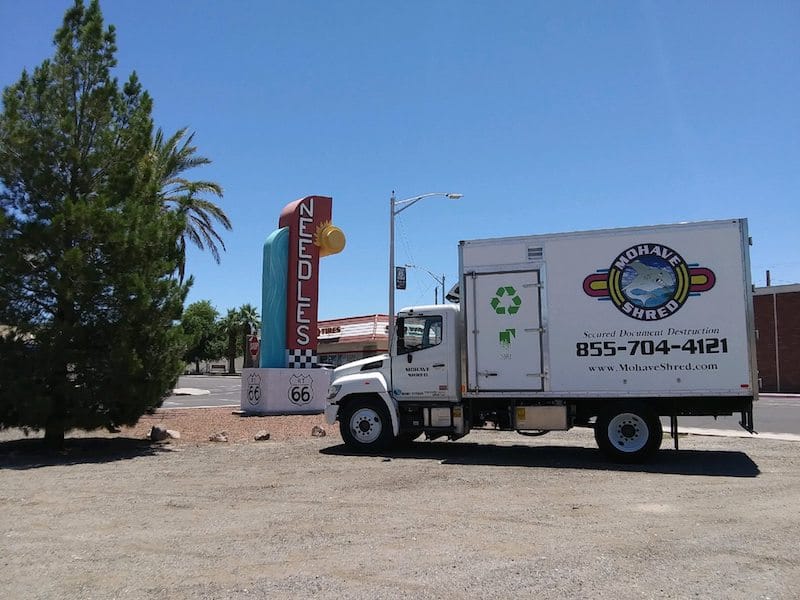 The heart of the MDS-15GT is the revolutionary ST-15H shredder. The ST-15H body is cast entirely of aluminum, providing exceptional strength without the weight of steel. With throughput rates up to 3,500 lbs/hr, the MDS-15GT performs up to the standards of Shred-Tech®'s larger more powerful Mobile Destruction Systems. The shredder features hub knives, high strength alloy shafts as well as two all new patent pending innovations: cast-in cleaning fingers and a vibrating Bridgeless Feed Hopper™.
Our advanced Document Shredding Equipment-Mobile Truck, will allow Mohave Shred to come to your place of business and destroy your sensitive documents on the spot.
Our new mobile unit can shred 3,500 lbs. of paper per hour, using it's state of the art shredding system that produces some of the smallest pieces in the industry. There's also a video monitoring system ensuring all documents placed in the loading bin have been completely destroyed before departure. Documents are handled by a bonded and insured employee and shredded in our mobile shredding unit on premises. Once shredded, a certificate of destruction is issued and the paper recycled. On-Site Shredding is the most convenient, secure and environmentally safe way to destroy sensitive information.
Environmental Stewardship
The MDS-15GT meets the EPA's strict new low emissions standards and operates on ULSD (ultra-low sulfur diesel fuel) or B5 Biodiesel fuel. The MDS-15GT is also equipped with Shred-Tech®'s Predictive Idle with auto shutdown and remote panel start/stop. Predictive Idle senses low shredder loads and shuts off the high engine idle when the shredder is unattended and the hopper is empty. Moments later the PTO's are turned off along with the engine. This means never wasting fuel and engine hours.
We use the Shred-Tech MDS-15GT truck to cost-effectively meet your waste reduction and recycling needs.
Security Bins & Security Cabinets
Security Bins
Locking Document Collection Container- Available in 64 gallon and 95 gallon.
32-gallon, 64-gallon, and 95-gallon containers.
Great for heavy volume areas.
Can be moved to other locations with-in the office with ease.
Security Cabinets
Provide a locking attractive piece of furniture for any office setting.
They are often used as a tabletop for copiers, fax machines or water coolers.
Simply place the materials in the console and leave the shredding to us.
18″ Wide x 18″ Deep x 29″ High and/or 22″ Wide x 22″ Deep x 40″ High.