Recurring Shredding Services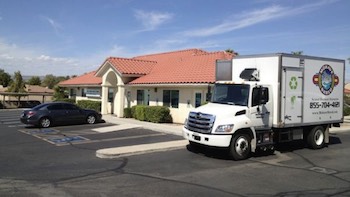 The accumulation of unsecured and undestroyed documents can put your company and your clients at risk. In addition to the legal consequences associated with a breach of confidential information, your business may also be impacted by the effects of:
Regulatory non-compliance
Exorbitant breach notification costs
Loss of clients
Negative publicity
Organizations that regularly destroy sensitive records that are no longer needed have the upper hand when it comes to information security. Federal Laws state you MUST destroy old records on a regular basis. "Regular basis" can mean different things to different companies. Some companies generate enough paper to justify a Weekly shredding service while others only need to shred once or twice per year. If your company needs shredding on a regular, recurring schedule then Mohave Shred can help. If you need weekly, bi-weekly, or monthly shredding service it's not a problem. No business or company is too large or too small for Mohave Shred.
What We Provide in Our Scheduled, Recurring Shredding Service:
We provide locking collection containers free of charge as a part of our Scheduled Shredding Services

Security bins hold 200 lbs. & 300 lbs. of paper or roughly 7 to 10 standard size bankers' boxes.
Executive Cabinets hold about 100 lbs. of paper or roughly 3 standard size bankers' boxes.

Recurring service is available weekly, bi-weekly or monthly
Certificate of Destruction issued with every shred completed
Minimize the Risk of a Data Breach in Your Business
Mohave Shred's scheduled shredding service can help your business eliminate the risk of a costly data breach. We'll expertly assess your document disposal needs and implement a recurring shredding solution that ensures secure and convenient destruction of your business records. As a result, you'll never again have to worry about:
Employee time spent on shredding
Sensitive documents lazily tossed in a waste bin
Files not being shredded in a timely manner
Improper chain of custody
To find out more, please contact us by phone or fill in the form on this page.